These are HEAVY DUTY hay nets made out of knotted Nylon netting. One end has a "slip rope" closing and the other end is closed with a metal ring. They are black in color. Send an email at equinekingdom@gmail.com for custom requests! I can also make these for a bale of hay, too - a square bale, or a smaller amount. The mesh is 2" holes, a quarter of the size of traditional hay nets!
PLEASE ALLOW THREE TO FOUR WEEKS FOR DELIVERY, ROUND BALE NETS ARE MADE TO ORDER! SOMETIMES WE CAN GET THEM OUT THE SAME DAY, YOU WILL BE NOTIFIED HOW LONG IT WILL BE BEFORE YOU RECEIVE YOUR NET!

Using this hay net will pretty much COMPLETELY eliminate waste from feeding round bales, which makes it a GREAT option for horses!! And the small openings keep horses from reaching their heads INSIDE the bale and getting coughs/sneezing from having their heads buried. It slows down consumption!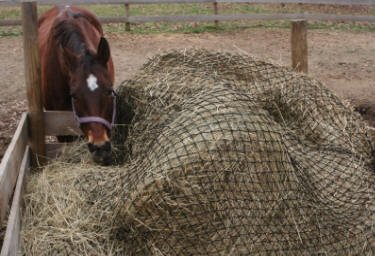 If your horses have free choice on the round bales, they would normally go through a 1100 pound bale at a rate of about 4 days for 4 horses, and that's if there is NO waste whatsoever - throw in about 25% waste (standard) and you're looking at about 3 days worth of hay for 4 horses. If you do that math, that means each horse is eating a minimum of 55 to 75 pounds of hay a day - far more than the average horse needs! Most horses need about 25-30 pounds of forage per day to maintain their ideal weight, so that means that you're wasting TWICE as much hay as needed - which, unfortunately, creates a LOT more manure!!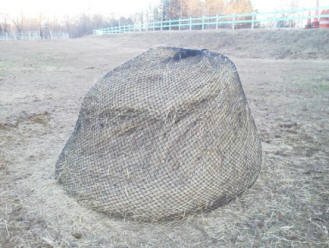 Using this unique round bale hay net, you'll DOUBLE the life of your round bale! Your bales will last twice as long, your horses will be busier because they have to work to get the hay out of the net - which means less fighting! We have put as many as 8 horses around a bale and they ALL stand there and eat, whereas with a normal bale feeding, only two or three will be around it at a time because they chase the others away!

These round bale feeders are absolutely awesome, they reduce cost of hay, greatly reduce waste, and reduce fighting. These hay nets will pay for themselves in a month or two just in hay savings!! You cannot go another day without one of these money, time, and fight-savers!! tell all your friends!!
We suggest using these nets where horses cannot get shoes or halters stuck in the netting. Please take precautionary measures, as with anything around horses.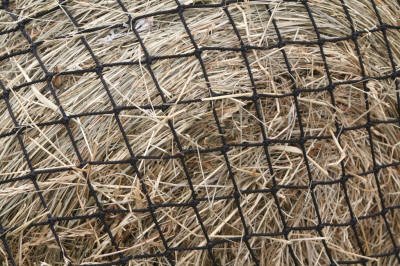 Contact Sally A. Nolte at equinekingdom@gmail.com if you have more questions or would like to purchase a round bale hay net! You can send the purchase amount to equinekingdom@gmail.com, through paypal!


These nets will hold up to a 5x6' bale(depending on how tightly compacted)! We have gotten 6'x6' bales in them before too! $300 each, free shipping!