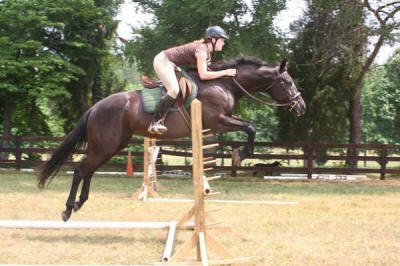 $8,000
Berry Mischievous
-- Black Appendix Mare
Greensboro, North Carolina, 27410
Name:
Berry Mischievous
Breed:
Appendix
Color:
Black
Sex:
Mare
Birth Date:
Apr 12, 2002
Markings:
None
Height: 16.2 hh
Weight: 1100.0 lbs
Registry: AQHA
Reg. #: ask
In Foal: No

Additional Comments:

"Mystique" is an amazing horse. She will stand to clip (even her ears!), loads easily, stands for the ferrier. Easy to catch, will usually walk right up to you in the pasture, even with other horses around. Very laid-back in pasture, is not mean to the other horses.

Mystique has been jumped up to 3'6" and could easily go higher. She has been ridden by young children and used in lessons extensively, but has not been ridden as much in the last year or so, therefore I haven't used her in lessons very much. Has an AMAZING walk/trot/canter/jump. Will go fast or slow. Has been trained to go western jogging, but not loping yet. Will jump anything you point her at. Isn't spooky at all.

This mare has NEVER come out of a class without a ribbon. I had a 15 year old start riding her, and put her in a show on Mystique after having ridden her only 3 times - she came out of three classes with a first, second, and fourth in classes with 15+ horses! Shown in jumping classes, flat classes, etc with no problem - picks up leads every time, excellent upward and downward transitions, will go just off your seat. She is SO calm at shows, she helps keep her riders calm. She's actually better at a show than she is at home!! Go figure.

She will ride without a bridle, just in a halter/lead rope if you wish. Round pens and lunges easily. Can play games with her, throw things around, do pretty much anything to her. She loves to be brushed and petted, loves kids. She has excellent ground manners, will not run over you, is very sweet and easy. Has done a lot of the Parelli games.

Mystique has to have front shoes at the time - her feet get brittle without supplement. I've got her on one that costs about $50/year.

She has taken 5 year olds in lead line classes, plus done MANY walk/trot/canter/jump lessons for kids and adults of all ages - even autistic children. So I KNOW she is a WONDERFUL horse, except for the few times she kicks/bucks. And it's usually only two or three times at the very beginning when you start to canter - after that she's fine. She trail rides great, too, and can be at the front, back, or middle - she's fine with anything. No separation anxiety. She is pasture boarded now but has been stalled with no problems. Gets along great with mares or geldings. NO vices.

The ONLY thing about Mystique is that when the weather turns cold, she gets a little bratty with not enough riding. Not mean, just attitudinal - When cantering, she'll kick/buck out with her back legs. I swear she's not trying to get her rider off, she's just feeling good. She NEVER does it in the spring, summer, or fall - it usually starts in November and ends in February. There is NO rhyme or reason to it at all - she's completely sound, been vetted and had her teeth and back checked and everything. It's a personality thing. Did I mention you can get right on this mare from not having ridden her for weeks or months on end and she's the same horse?

You could literally let her sit in the pasture and get fat for four months in the winter and get right back on her for show season and do great. I'm sure the kick/buck thing could be solved if someone had enough time. I teach lessons full time and barely have time to breath, let alone ride her as much as she deserves.

I wish I didn't have to sell her, but with teaching lessons as much as I do, I just don't have the time to devote to her. This horse is NOT for children or beginners at this stage, but could take a more experienced rider RIGHT to the top at shows. She has a lifetime membership with the NCHJA.


Check out lots of pictures of her:
Flintrock Farm Hunter Show of October 10, 2009

Contact Info:
Let me know if you have any questions or would like to come out and check her out!!

Shipping Notes:

Will deliver at no charge within 25 miles of farm.