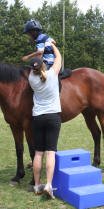 Having the right riding instructor is crucial to the development of both horse and rider, especially when matching up a horse and rider to their ideal partner. The Ideal instructor will be very safety-conscious and insist that riders always wear helmets when mounted, and practice safety on the ground as well. It is not merely a walk in the park to choose a good riding instructor, especially when there are so many lousy teachers out there that just want to make money at other peoples' and horses' expense.
Many a tale has been told of riding instructors and riding schools where the horses were too stubborn to ride, too mean, horses that bit and kicked and didn't want to be ridden. Horses that bucked and reared and ran away with people, instructors that sit in the corner and read or talk to someone else while they are teaching, that talk on the phone or pay no attention to the student on the horse. If you take the time to ask, you'll probably find that some of your friends (possibly more than you think!) rode when they were a bit younger, and got scared off or frustrated away by one of scenarios just mentioned. Please, before you start riding, whether you've never ridden before, are riding now but are frustrated with your instructor or the horses, or if you rode 40 years ago, please look at the following criteria and take it to heart. Honestly, it can only help. After all - it's yours or your child's life at risk - don't you want that in the most capable hands possible?
Riding lessons should be safe and fun, first of all! If they aren't, immediately look somewhere else. A good riding instructor should have posted safety and barn rules, such as: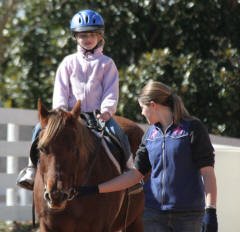 ' Closed Toed Shoes Required
' No Alcoholic Beverages
' NO SMOKING
' Everyone MUST wear a helmet when Mounted!
' Do not leave horses tied, unattended
' No unattended children
' No running around the horses
' Put your things away when you're done!
' Close all gates behind you, and keep the tack rooms closed at all times.
The instructor should maintain control of any and every situation at all times, including if and when a student falls, cannot control their horse, a horse gets hurt or goes lame, if a student has a difficult question. Visit the farm where the riding instructor teaches - don't just call. Anyone can sound good over the phone. If possible, schedule a time to go out to the farm and just sit and watch some of the lessons. You can get a good idea of how the instructor teaches that way, without having to pay a cent! Is he/she harsh, domineering, controlling, or does he/she help students through problems, work through things for good results from both horse and riding, is the lesson fun and interesting? Is there something new taught at each lesson? Does the riding instructor have a good backup plan? No riding instructor should ever be condescending or demeaning to a student, regardless of the situation. It just isn't professional.
What sort of experience does the instructor have? If he has only ridden and shown Western Pleasure his entire life, it's a safe bet that he isn't a good candidate to learn jumping or dressage from. If she has ridden English, Dressage, her whole life, then you probably wouldn't look for a trail training class of barrel racing from her. Make sure that the instructor's capabilities are in line with what you want to learn. Many good instructors will teach English and Western, and have dabbled in many different areas. There are many that can get you started in the discipline of your choice, then take you as far as you can before they hand you off to someone else that has specialized in your chosen discipline.
How big of a group lesson does the instructor teach? Are they small enough that individual time is still spent with each student? Is there still progress being made? For children under 7 taking lessons, they should be private, unless there is another assistant/helper to walk with or observe the other children in the group. Below age seven needs constant, consistent supervision - it only takes once of turning around and something drastic happening. If group lessons (usually 3-10 people, depending on the size of the riding school) do not appeal to you, generally semi-private (2-3 people) are less expensive than private lessons, but there is still a lot of individual quality to the lesson.
The right riding instructor will know how much his or her time is worth. If you want your child to take riding lessons, you can generally find someone with lessons anywhere from $25 for 30 minutes, to $40 per hour. This is pretty reasonable - with the market and economy the way it is now (written as of June 2008), you cannot expect to pay much less. Gas, boarding, shavings, feed, hay, and equipment prices have gone through the roof - as if horseback riding weren't already an expensive enough hobby!
The right riding instructor will make his or her students feel at home, have fun, and enjoy themselves, while learning in a progressive way towards set goals.