3809 SE School Rd, Greensboro, NC, 27406
FOLLOW THE INSTRUCTIONS BELOW TO REDEEM YOUR VOUCHER - you MUST email us, you CANNOT schedule your ride by simply calling us!
LIMIT 6 RIDERS PER TRAIL RIDE
(336) 662-5329 for Elyssa, our trail Guide!
These are not your typical trail rides, though, where you're in a long line with 20 other riders, riding around on a horse you know nothing about, scared to do anything in case the horse acts up on you!
August Available Dates/Times:
Sunday, August 23, 2015 - 5pm
Tuesday, August 25, 2015 - 6pm
Saturday, August 29, 2015 - 5pm
September Available Dates/Times:
Sunday, September 6, 2015 - 6pm
Tuesday, September 8, 2015 - 6pm
Saturday, September 12, 2015 - 1pm
Sunday, September 13, 2015 - 4pm
Tuesday, September 15, 2015 - 6pm
Tuesday, September 22, 2015 - 6pm
Dates/times subject to change with no notice. We will attempt every contact with the trail ride participants, and any changes to the rides becuase of weather will be announced on our Facebook page at www.facebook.com/equinekingdomridingacademy.
LIMIT 6 Riders Per Trail Ride. Please consider Tipping - our helpers are volunteers!!
At Equine Kingdom, your trail ride package lasts for a little over an hour.
You'll arrive about 5-10 minutes early, so you'll have time to sign a release form before you ride.
A group of up to 6 or 8 people can ride at a time, but smaller groups are preferred.
When your lesson/trail ride starts, you'll spend 5-10 minutes grooming and tacking up your horse. If your horses have already been used in a lesson prior to your ride, then you will get to go ahead and get right on to ride!
After preparing your horse, you'll head down to the riding arena to mount your horse.
Then you'll spend about 15 minutes in the riding arena, learning to start, stop, steer, turn, and maneuver your horse over and around obstacles.
Your lesson in the arena helps you learn about your horse, and get comfortable controlling your horse.
After your lesson, you'll spend the remainder of your hour (about 30 minutes) on a trail ride through the woods and around the property, maneuvering up and down hills, through the woods, and on a scenic tour around the farm to see all the horses!
Your riding time will be approximately 45 long for the trail ride!
Children and adults ages 3 and up are eligible to go on these trail rides. Children under 12 will have a handler walking next to the horse unless they have extensive riding experience. Rider must be 300 pounds or lighter. We do not allow children to ride with adults, it is unsafe.
*Make sure you wear long pants and closed toed shoes for comfort. Helmets are provided and required for ALL riders, NO exceptions!*
YOU MUST EMAIL US TO SET UP YOUR
TRAIL RIDE/REDEEM YOUR VOUCHER
When you contact us at
equinekingdomridingacademy@gmail.com
you MUST provide the following:
-Names of riders
-Ages of riders
-Height/Weight of riders
-Experience level of riders
-Your first and second preferred dates
-Your voucher number
-Your contact information

If you cancel with less than 6 hours before your trail ride, Your voucher will be forfeited.
TIPPING IS GREATLY APPRECIATED, AS OUR HELPERS ARE VOLUNTEERS!!!
Please send us an email at equinekingdomridingacademy@gmail.com to set up a trail ride! Please include names, ages, and approximate weight (if riders are adults), as well as days and times that you would like to ride. Or you may click on the buy now button below to pay securely online. One week's notice is preferred, but short term notice is available fairly often as well.
If you do not have a voucher, or did not purchase enough for your entire group, you can purchase an additional ride here:
Hour-long trail riding experience:
$60 per rider
Call us at (336) 517-7971 for trail ride package cost. Group discounts are available for special occasions or sizeable groups.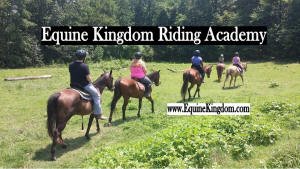 Meet Our Wonderful, Safe Trail Horses!

Prissy
22 year old Quarter Horse mare English/Western, Beginner-Advanced

Enoch
26 year old Paint Horse Gelding
English, Beginner-Intermediate

Katana
5 year old Quarter Horse Mare
English, Beginner-Advanced.

River
18 year old Appendix Quarter Horse Mare English/Western, Beginner-Advanced

Mustang Sally
10 year old Quarter Horse Mare
English/western, Beginner-Advanced

Jitterbug
19 year old Arabian Mare
English/western, Intermediate-Advanced


Gypsy
23 year old Quarter Horse Mare
English/Western, Intermediate-Advanced

Sebastian
22 year old Thoroughbred Gelding
English/Western, Beginner-Advanced

Hawkeye
17 year old Paint Horse Gelding
English/Western, Intermediate-Advanced

Apollo
18 year old Appaloosa Gelding
English/Western, Beginner-Advanced


Fable
13 year old Quarter Horse/Morgan Mare
English/Western, Beginner-Advanced

Koda
12 year old Quarter Horse Mare
English/Western, Beginner-Advanced