This program is currently closed. Please ask for more information on riding lessons.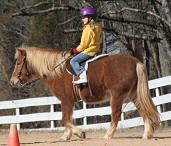 This new program is designed specifically with the 4-18 year old homeschooler in mind! This program will introduce your children to the joy of horses and riding. We will teach your children the basics of all around horsemanship, including safety around horses, grooming/brushing techniques, handling the horses safely, nutrition/feeding, health and first aid, and basic equine anatomy.
Classes will include lectures, hands-on activities, and handouts. Students will learn about horse science, horse vocabulary words, and get a realistic expectation of owning a horse. They will learn to have a good outlook on the responsibility and costs of owning a horse. They will also learn to tack up and ride a horse, both English and Western.

The Homeschool Horsemanship program runs once a month for two hours each time. Groups of more than 5 children will be split into two groups, with counselors/handlers helping with each group.
This program is open for groups of homeschoolers looking to do a field trip, as well as for those that want to attend on a regular basis.
Cancellation policy - There is no refund if your child cannot make it, unless you give at least 2 weeks notice. If your child must miss an activity day, they may make up the lost opportunity by taking a REGULAR riding lesson at a discounted price of $10. Otherwise, they must forfeit the opportunity.
Your dues must be paid at the beginning of each month. Please make checks payable to Sally A. Nolte. You can give the payment in person at Equine Kingdom Riding Academy or send them to