Equine Kingdom Riding Academy

3809 SE School Rd

, Greensboro, NC, 27406
Equine Kingdom offers various services to the equestrian community through the form of horseback riding lessons.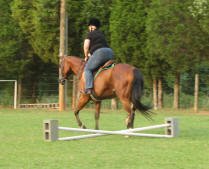 Children and adults will learn to:
Ride correctly
Groom a horse
Feed/care for a horse
saddle/bridle a horse
ride on trails
show a horse
and much, much more!
You'll learn to groom your horse, put on a saddle and bridle quickly and efficiently, mount and dismount your horse, turn your horse correctly, walk, trot, and canter, jump small jumps, maneuver a course of poles, judge distances, and much, much more!



Please call for pricing

Call Sally Cochran at (336) 517-7971 for intermediate/advanced lessons



There is a $25 applicable fee for missing a lesson without calling, unless it's a life-or-death emergency (then I promise I'll understand), due at the next lesson taken. Instructor reserves the right to cancel or reschedule lessons due to horse problems, injury, or weather up until 30 minutes before the lesson. Lessons are not taught in extreme heat (over 100 degrees) or in extreme cold (under 35 degrees), nor in very rainy/stormy conditions that could prove dangerous to the horses or riders.

During the summer, lessons will be taught from 8:00am to 10:00am, then from 6:00pm to 8:30pm, because of heat.



If you do not hear from me either by phone or email, consider your lesson still on! If you call and cancel, that's fine too, but if it's raining and you don't show up, and I'm out there teaching, you will owe me for the lesson. If it's raining, snowy, or other adverse weather conditions are present, lessons will be taught in the indoor arena. There will be no cancellations for normal weather conditions.




Call Sally Cochran at: (336) 517-7971
2019 Lesson Horses

Prissy
26 year old Quarter Horse mare
English/Western, Beginner-Advanced


Link
18 year old Chestnut Gelding
English/Western, Beginner-Advanced


Butterbean
6 year old Pony Mare
English/Western, Int-Advanced


Blue Jeans
14 year old Quarter Horse Mare
English/Western, Beginner-Intermediate

Aislinn
16 year old Quarter Horse Mare
English/Western, Beg-Advanced

Fable
18 y/o Morgan/Quarter Mare
English/Western, Beg-Advanced


Duchess
14 year old Quarter Horse Mare
English/Western, Beg-Advanced

Puzzle
15 year old Paint Gelding
English/Western, Int-Advanced


(owned by Nancy T.)


Aladdin
22 year old Arabian Gelding
English/Western, Beg-Advanced
(owned by Bella L.)