3809 SE School Rd, Greensboro, NC, 27406
Kingdom Hearts will be signing riders up for classes on the following dates in April 2013:
Monday 8th, 5pm
Tuesday 16th, 5pm
Monday 22nd, 5pm
Tuesday 30th, 5pm
Classes will run for 30-45 minutes at a cost of $25 per person per lesson. Please make checks to Equine Kingdom Riding Academy.
Equine Kingdom is proud to present our newest up-and-coming program, Kingdom Hearts Therapeutic Riding! This has been a goal of ours for a very long time, and it is one that is finally coming to fruition! After spending the last two years putting lots of blood, sweat, and tears into building the actual riding academy and increasing business, it is finally time!
The inspiration behind the name - as everyone already knows, we are Equine Kingdom Riding Academy - Where Christ "Reins" Supreme. Matthew 19:14 says: Jesus said, "Let the little children come to me, and do not hinder them, for the kingdom of heaven belongs to such as these." We must have the right heart to enter the kingdom of God! Therefore we must have "Kingdom Hearts" and be kingdom-minded. Our aim is to use horses to bring healing and growth and give people the opportunity to experience God's amazing creatures.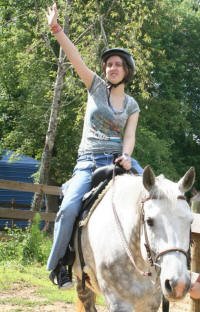 Sally Cochran, owner/instructor, is currently Level 2 ARIA (American Riding Instructor's Association) certified in Recreational Riding and Hunt Seat on the Flat, a member of AQHA, NCHJA, and PATH Int'l. She became a PATH (Professional Association of Therapeutic Horsemanship) certified instructor in November 2012.
Our goal is to serve many riders with learning disabilities, autism, developmental delay, and much more. We have wonderful, safe, well-trained horses that have been with us for many years. Several of them have even been therapy horses at previous farms, and it shows in their wonderful, laid-back personalities.
We will offer basic therapeutic riding as well as group lessons for higher-functioning students of all ages.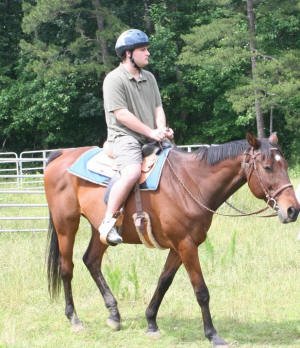 We are currently accepting students on an individually evaluated basis. We cannot serve all riders at this time due to limited availability, but please contact us as we are certainly offering a good number of spots!
If you would like to volunteer for our program, please contact us at equinekingdomridingacademy@gmail.com.
If you know someone or have a friend/family member that would like to be involved in our program, please contact us at equinekingdomridingacademy@gmail.com
We currently have several students that have been with us for some time that have different forms of autism, developmental delay, cystic fibrosis, stroke victims, learning disabilities, Asperger's syndrome, ADHD, ADD, and many other such disabilities. We are more than happy to evaluate individual clients and absolutely love our dear riders!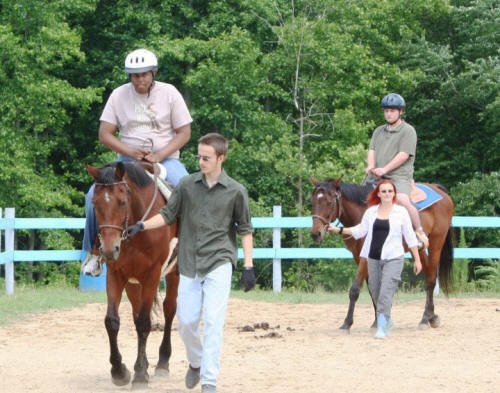 Cody and River with Donald walking alongside, Bjorn and Sebastian in the back with Renata
Kira and River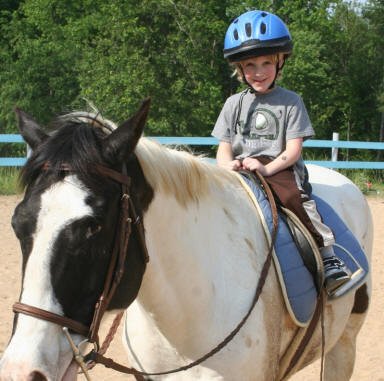 Dillan and Hawkeye
Kingdom Hearts Therapeutic Riding is a private company, all rights reserved to the name and any affiliations thereof.
As many of you know, and many of you may NOT know, Equine Kingdom Riding Academy's long-term goal is to open a therapeutic riding program in order to offer therapeutic horseback riding and hippotherapy to anyone and everyone! We need an indoor riding arena and better, specific facilities to do this - an indoor arena will cost a minimum of $50,000, and we need modified facilities such as concrete, wheelchair and disability accessible areas, a lounge, bathroom facilities, etc to be able to offer these services to the community.
Thank you SO MUCH! We are very thankful to every single person and business that has helped us reach our goals so far, and we are very excited for this next step!!!
Meet Our Wonderful, Safe Horses!

Prissy
19 year old Quarter Horse mare English/Western, Beginner-Advanced

Enoch
25 year old Paint Horse Gelding
English, Beginner-Advanced

Mystique
11 year old Appendix Quarter Horse Mare English, Advanced.

River
18 year old Appendix Quarter Horse Mare English/Western, Beginner-Advanced

Zelda
14 year old Quarter Horse Mare
English/western, Beginner-Intermediate

Jitterbug
17 year old Arabian Mare
English/western, Intermediate-Advanced


Sebastian
19 year old Thoroughbred Gelding
English/Western, Beginner-Advanced

Hawkeye
15 year old Paint Horse Gelding
English/Western, Intermediate-Advanced

Aislinn
9 year old Quarter Horse Mare
English/Western, Beginner-Advanced


(owned by Allyson Boonbumrung)


Fable
11 year old Quarter Horse/Morgan Mare
English/Western, Beginner-Advanced


(owned by Daniel Boonbumrung)


Celeste
17 year old AraAppaloosa Mare
English/Western, Intermediate-Advanced