Equine Kingdom Riding Academy - 3809 SE School Rd, Greensboro, NC 27406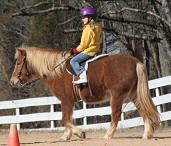 Equine Kingdom offers various services to the equestrian community through the form of horseback riding summer camps. We have an experienced staff on hand to help at all times. Safety is of the utmost importance and your child will be in the best possible care. The horses are well-seasoned veterans, used for lessons throughout the entire year, and are well-versed in their job duties. Your son or daughter will experience responsibility in working as a team member. They will also learn how to set their own personal goals and create a plan for accomplishing those goals. Positive attitude and self confidence are created through accomplishments which will enable her to try new things and succeed in any endeavor. Your child will learn:
Safety Around Horses

CLICK HERE for more information

Dates & Information

Dates & Information

Saddling/Bridling
Grooming/basic first aid
Catching/Leading a horse
Bathing/Braiding/Show Prep
Basic riding aids
English/Western Riding
Jumping/Trail Riding
Arts & Crafts
Fun & Games Galore!!

Prissy
17 year old Quarter Horse mare English/Western, Beginner-Advanced

Enoch
21 year old Paint Horse Gelding
English, Intermediate-Advanced

Mystique
9 year old Appendix Quarter Horse Mare English, Beginner-Advanced.

Dublin
15 year old Appendix Quarter Horse Mare English/Western, Beginner-Advanced


Jitterbug
16 year old Arabian Mare
English/Western, Beginner-Advanced


Zelda
12 year old Quarter Horse Mare
English/Western, Beginner-Intermediate