3809 SE School Rd, Greensboro, NC, 27406
Email us at equinekingdomridingacademy@gmail.com to sign up for camp!
OR CALL (336) 517-7971 TO SIGN UP NOW!!!
(discounts available for multiple siblings for the weeklong camps)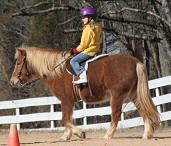 Equine Kingdom Riding Academy offers various services to the equestrian community through the form of horseback riding summer camps. We have an experienced staff on hand to help at all times. Safety is of the utmost importance and your child will be in the best possible care. The horses are well-seasoned veterans, used for lessons throughout the entire year, and are well-versed in their job duties. Your son or daughter will experience responsibility in working as a team member. They will also learn how to set their own personal goals and create a plan for accomplishing those goals. Positive attitude and self confidence are created through accomplishments which will enable her to try new things and succeed in any endeavor. Your child will learn:
Safety Around Horses

Weekly Camp (4 days - Mon-Thurs) - $300
Day Camps (1 day) - $90

All camps run from 9am to 1pm, have at least an hour of riding time, plus lots of extras and incredibly fun activities!


$15 non-refundable deposit required per day of camp signed up for.

Dates & Information

2015 Summer Camp Dates


June 22-25, 2015 - Beginner Camp
July 13-17 - Open Camp
August 10-13 - Advanced Camp

Day Camps may be added.

*more dates may be added as camps fill up*


IT IS IMPORTANT TO NOTE THAT YOU CAN SIGN UP FOR A WEEK LONG CAMP, OR JUST ANY DAYS YOUR CHILD WOULD LIKE TO JOIN.



Saddling/Bridling
Grooming/basic first aid
Catching/Leading a horse
Bathing/Braiding/Show Prep
Basic riding aids
English/Western Riding
Jumping/Trail Riding
Arts & Crafts
Snacks/Drinks Provided
Fun & Games Galore!!
EVERY CAMP DAY IS DIFFERENT! There is western, bareback, barrel racing, jumping, , trail riding, driving, groundwork, games, and so much more! The variety is incredible!
Camp will be taught by Sally Cochran. Camps generally have a 2:1 student to counselor ratio.

Prissy
17 year old Quarter Horse mare English/Western, Beginner-Advanced

Enoch
22 year old Paint Horse Gelding
English, Beginner-Advanced

Mystique
9 year old Appendix Quarter Horse Mare English, Beginner-Advanced.

River
14 year old Appendix Quarter Horse Mare English/Western, Beginner-Advanced

Zelda
13 year old Quarter Horse Mare
English/western, Beginner-Intermediate

Jitterbug
16 year old Arabian Mare
English/western, Intermediate-Advanced


Merlin
14 year old Quarter Horse Gelding
English/Western, Intermediate-Advanced

Sebastian
18 year old Thoroughbred Gelding
English/Western, Beginner-Advanced

Hawkeye
14 year old Paint Horse Gelding
English/Western, Intermediate-Advanced

Aislinn
8 year old Quarter Horse Mare
English/Western, Beginner-Advanced


(owned by Allyson Boonbumrung)


Fable
10 year old Quarter Horse/Morgan Mare
English/Western, Beginner-Advanced


(owned by Daniel Boonbumrung)


Celeste
16 year old AraAppaloosa Mare
English/Western, Intermediate-Advanced